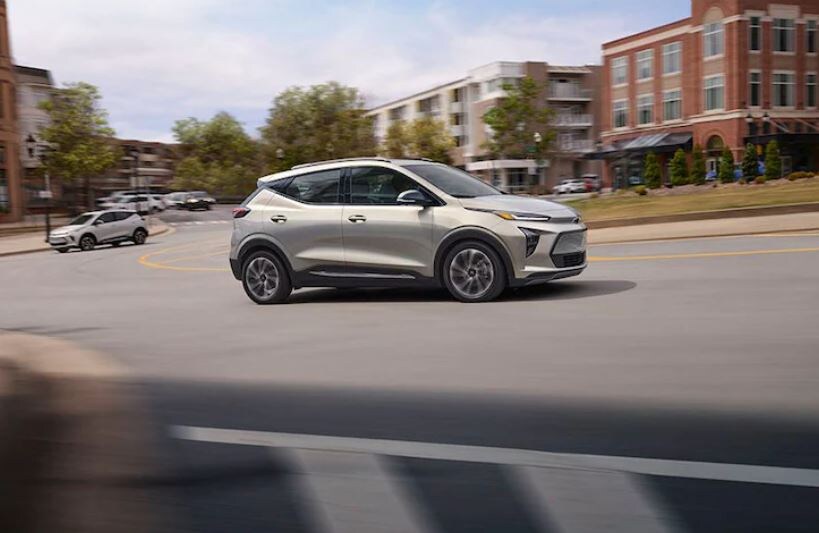 2022 Chevy Bolt EUV Philadelphia PA
2022 Bolt EUV Inventory near me
Are you someone who is interested in driving around in a vehicle with true electric capabilities? We know it can be hard to find the perfect electric vehicle, but we are incredibly impressed with what Chevy has done with the 2022 Chevy Bolt EUV. This vehicle is completely new in the 2022 model year, bringing you a slightly larger version of the EV model so you can fit more things on your long journeys! Our goal here today is to bring you the reliability, style, and power that you need to lead your life without any interruptions. Are you interested in finding out more information about the 2022 Chevy Bolt EUV? Then keep reading down below as we dig further into what this vehicle can offer you!
What is responsible for powering the Bolt EUV?
Whenever you're learning more about an electric vehicle, it's vital you understand what this vehicle can do in terms of power and efficiency. We're happy to say that the Bolt EUV, in the 2022 model year, boasts a 150-kilowatt permanent magnet electric motor, which is powered by a 65-kWh lithium-ion battery. You'll be able to get as much as 200 horsepower with this combination, along with around 266 pound-feet of torque. That is a lot of power from this combination and ensures that just because this is an electric vehicle, doesn't mean you're sacrificing on peppiness. You'll also be getting an EPA range of around 247 miles, or about 125 MPGe city and 104 MPGe on the highway. There are many different ways to measure success, and we're pretty sure the 2022 Bolt EUV meets all of the criteria.
What features come with the 2022 Bolt EV?
Beyond just being able to get you where you need to go, Chevy has worked hard to bring you a vehicle that also offers the best features around. Every Bolt EV you find will come with LED headlights, LED taillights, a configurable 8-inch color gauge cluster, a one-pedal driving button, a 10.2-inch touchscreen, and even cruise control. Some of the optional features with this vehicle include a 4G Wi-Fi hotspot, a dual-level charging cord, wireless smartphone charging, wireless Apple CarPlay, wireless Android Autio, and even the option to throw in In-Vehicle Apps that continue to give you all of the latest information without feeling left out. The point is, this Chevy really does bring you to the 21st century!
What safety will I gain with the Chevy Bolt EUV?
We're almost done discussing the Bolt EUV, but before we leave you to actually seeing this vehicle in person, we want to tell you more about the kind of safety you can gain with this model, too. The top standard safety features with this vehicle include a following-distance indicator, a forward-collision alert, lane-keeping assist, automatic emergency braking, and lane-departure warning. You'll even be gaining front pedestrian braking! Optional safety includes adaptive cruise control, rear cross-traffic alert, and a surround-view camera.
2022 Chevy Bolt Inventory at Reedman-Toll Chevy
We hope that after learning more about the 2022 Chevy Bolt EUV you'll stop by Reedman-Toll Chevrolet. We know that we have the best inventory of these models available, which means our sales professionals can do everything in their power to help you out throughout every step of the car-buying process. We'll see you soon!