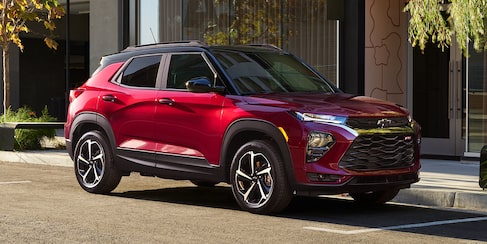 Chevrolet Dealer serving Doylestown PA
There is nothing more American than getting behind the wheel of a Chevy, and here at Reedman-Toll Chevrolet, you are bound to find a new or pre-owned Chevy Trailblazer, Silverado, or Equinox, that suits all of your needs! Head down to Reedman-Toll Chevrolet today and check our fantastic inventory. You can also schedule a test drive with one of our team members so you can get the full feel of your Chevy before you buy it! If you find that perfect Chevy on our lot, head to our finance department, where our team will give you a great deal! Best of all, you can check out our complete inventory here on our website.
Getting from Doylestown to Reedman-Toll Chevrolet
It's easy to get from Doylestown to our dealership. Start by heading southwest on E State Street toward S Main Street. Make a left at the first cross street to stay on S Main Street. Turn left on Green Street and continue onto Pebble Hill Rd, and another left onto Edison Furlong Rd and continue onto Edison Furlong Rd. Continue onto Forest Grove Road. Continue following onto Township Line Rd and then turn onto Park Ave. From here, you are looking for PA-413 S. Get on this route, continue straight onto PA-332 E, and then turn right onto Woodburn Rd. Make a right onto US-1 S, and Reedman-Toll Chevrolet will be on your right! If you see WaWa, you have gone too far!
About Doylestown PA
The city of Doylestown is known for its arts and culture scene. It's home to three structures that Henry Chapman Mercer built. The Mercer Museum is a prevalent structure built in poured concrete and is home to a collection of early American artifacts and also has "Tools of a Nation Maker" which is one of the most important of its kind in the world. The former prison, across from the Mercer Museum, is now converted into the James A. Michener Art Museum, named after the Pulitzer Prize writer. Doylestown also has a small music conservatory, writers and artists organization, and other cultural activities. One of the most historic buildings in the country, the Fountain House, can also be found in Doylestown.
Get a new Chevy here at Reedman-Toll Chevrolet
No matter what new Chevy you're looking for, from the Blazer to the Silverado, we have got you covered here at Reedman-Toll Chevrolet! All of our new Chevy's come with all the latest tech, luxury, and power options, so you always know you're getting something of quality. So head to our dealership today and take a test drive of any of the new Chevy's on our lot! We know you will fall in love with that special Chevy, and our team can't wait to put you in the vehicle of your dreams here at Reedman-Toll Chevrolet!
Pre-Owned Chevy's near Doylestown
If you want a quality vehicle, but don't have room in your budget for a new Chevy, check out our complete pre-owned Chevy inventory right here at Reedman-Toll Chevrolet! All of our used vehicles have been thoroughly checked by our team of highly skilled technicians, so you are sure to find a Trailblazer or Equinox that will last you for years to come. Feel free to test drive any of the used vehicles on our lot until you find the perfect one for your needs. You can also check out our complete pre-owned inventory here on our website!
Financing for your Chevy right here at Reedman-Toll Chevrolet
For those who are looking for the perfect loan that suits their needs, then be sure to check out our finance department, where our team will go over all of your options and set you on the path to getting the Chevy of your dreams. All you need to do to start the process is fill out a finance application that you can find right here on our website! Our team will get back to you promptly with our approval, and then you will be free to get behind the wheel of the perfect Chevy! We can't wait to work with you here at Reedman-Toll Chevrolet.
Get service for your Chevy near Doylestown
Let's face it, our Chevy's will need some repair at some point, so why not take your vehicle down to a service center that you can trust? Our technician team here at Reedman-Toll Chevrolet will go over every inch of your Chevy, and we will do everything from changing your oil to the more severe repairs, and you know we will get the job done right! You can make an appointment by filling out an appointment form here on our website. We look forward to working on your Chevy and getting you ready for your journey here at Reedman-Toll Chevrolet!
Doylestown Resources
Check out these places to visit in Doylestown!
We also serve the following areas: